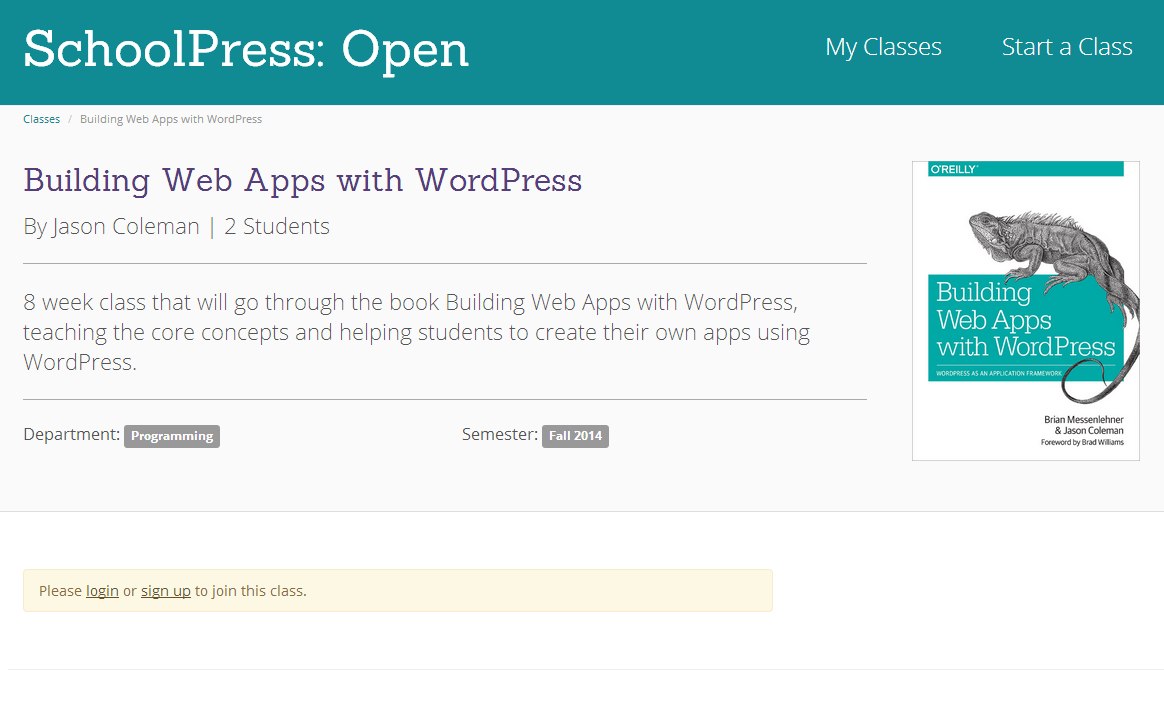 See the site in action at schoolpress.me.
See the source code and docs on GitHub.
Some important notes.
The site is in beta and will have issues. Point them out for me in the issue tracker in GitHub and help us work on them.
Please only post true classes you intend to run at open.schoolpress.me. If you are just testing, use testschool.schoolpress.me.
To deter spam, new classes won't show up on the homepage or in the browse/search immediately. I have to enable this per class by hand. I may charge a small fee for open classes at some point in the future as well depending on what kind of spam bots we run into.
Going forward.
There are some obvious things that need to be completed (the code around submissions for assignments from the book for one), but remember that this isn't an active project for me (yet anyway). It's a demo we imagined up to showcase some of the ideas from the book. There is a lot going on and some really cool learning opportunities in the existing code and in the code that can be done going forward. I'm planning on blogging about the process on the site here.
The Building Web Apps with WordPress Class
The class I posted on the site is real. Sign up now. I may have to close signups at some point, but it is open for now and completely free. Starting in September, we'll be tackling a couple chapters of BWAWWP each week, using the SchoolPress app as an example. Many readers of the book wish that BWAWWP was more of a step by step "how to build a WordPress app" book. We didn't want to write the book that way, but I do believe that this class and some of the stuff that will come out of it will fill that need for people who are looking for that kind of experience.
Why did this take so long?
When we started writing the book, we thought up SchoolPress as an example app that we could use to help make the examples more concrete. We always intended on building the SchoolPress site, running it, and sharing the source code from it. As we got into the writing of the book we learned (1) that writing a book takes a lot of time and (2) an example from SchoolPress wasn't always the best way to explain a concept. We ended up picking our examples based on what would help explain the topics we were writing about rather than having every example based on SchoolPress. And so we didn't need a fully functional SchoolPress to finish writing the book, and we focused our time on the book itself.
We still had time to finish SchoolPress up before the books release, but didn't hit that deadline obviously. Both Brian and I have small children, run startup companies, have many side projects, and generally are busier than we should be.
Excuses out of the way, I'm really sorry that we didn't get SchoolPress launched earlier. I was honestly a little surprised in the interest in SchoolPress (how about the 450 page book?), but have come to respect why people want to and need to see that site to better appreciate the book.
Like any good project, SchoolPress was released behind schedule but still earlier than I am comfortable with. There is work to do to make it a good application and also general framework for building SchoolPress like sites. As I work through the project and share the challenges and interesting bits of development that come up, I'm sure I'll have lots of great content to share here for people interested in building web apps with WordPress.
Thanks!